RELATIONSHIPS
Human spirituality has everything to do with an individual's health and development toward a balanced relationship with Nature's Universal Laws, but also our relationship with each other. This web page deals with several main categories of relationships, i.e. motherhood, fatherhood, sexual relationships, relationships with our neighbors both local and in the world. The more love and positive energy we send to each other and to the world, the more we will find constructive, supportive answers to help the human race find purpose in their lives. This will help us to raise our consciousness of our purpose here on earth and to achieve what is to be our highest self.
This web site will recommend authors on these subjects and top web sites. Please also cross-reference our mind, body, spirit and Energy Medicine web pages for related topics.
*Authors and books
*Top recommended related web sites
---
---
Medium, Spiritual Healer, Reiki Master Teacher living in Cassadaga, Florida.

We are all searching for meaningful relationships in our lives. It is important to know which relationships, however, are adding to your life or drawing energy from you. This draws us into questions of what you want from a relationship, what has been your patterns in past relationships that have failed or ones that have been wonderful. There are no right or wrong paths to love, just the one that works for you. We are all one and your thoughts, words and actions affect everyone around us. Come let's explore your possibilites together.


Appointments Available For Your Convenience


All paid calls are followed up with free minutes
Thank you and Blessings to You!
A poem by Rumi, a 13th century poet from Persia who was a master for defining human intimacy and passion.
THE AWAKENING

In the early dawn of happiness you gave me three kisses so that I would wake up to this moment of love


I tried to remember in my heart what I'd dreamt about during the night before I became aware of this morning of life


I found my dreams but the moon took me away. It lifted me up to the firmamemt and suspended me there. I saw how my heart had fallen on your path singing a song


Between my love and my heart things were happening which slowly, slowly made me recall everything


You arouse me with your touch although I can't see your hands You have kissed me with tenderness although I haven't seen your lips. You are hidden from me


But it is you who keeps me alive


Perhaps the time will come when you will tire of kisses. I shall be happy even for insults from you. I only ask that you keep some attention on me.


NAMASTE Richard
SOME QUOTES TO PONDER
A successful marriage requires falling in love many times, always with the same person. --Germaine Greer
People shop for a bathing suit with more care than they do a husband or wife. The rules are the same. Look for something you'll feel comfortable wearing. Allow for room to grow. --Erma Bombeck
---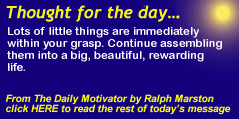 e-mail US for more information